Tuesday 2nd Aug 2011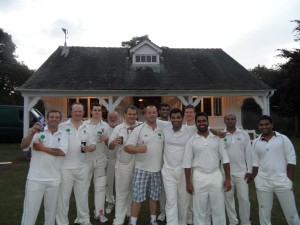 W.P.C.C. were privileged to play a 20 overs friendly at Eaton Hall, the ground is in a magnificent setting; the Hall, visible beyond mature trees, the estate railway track skirting the boundary rope and the pavilion which was built in the 1890's, positioned perfectly to take in the whole scene.
Having lost the toss, the Parkies took to the field; there was plenty of evidence in the outfield of the herd of deer (first encountered on entry), but the pitch was beautiful and the home side took advantage of their familiarity by posting 128 for 3 with 2 retired not out.
Park scored 129 for 2 with 2 balls to spare and 2 retired not out.
The hosts were generous with their congratulations and with the tea they provided, it was well past dark when the last of the Parkies said their goodbyes and we are looking forward to our return next year.
A big Thankyou to Martin Wells and the Eaton Hall team for their invitation and hospitality, it was very much appreciated.