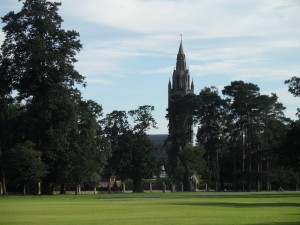 Westminster Park CC finished off the 2012 season on a positive note with victories in the final 3 friendly games.
2 runs needed from the final ball with the batsman having just arrived at the crease won a belter of a game at Cholmondeley Castle, Rob Aldridge recording his best score for the Parkies (42) set the momentum and WPCC crossed the line with 2 men remaining. Cholmondeley CC 183 for 5, Park 184 for 8. (40 overs).
The penultimate game was a splendid day at Eaton Hall; Park fielded first and ran through the batsman with ease, Peter 'Gnome' Dodd striking again to return figures of 2-1-5-3. Park reached the total set with balls, and players, to spare.
Eaton Hall 11 74 all out, Park 75 for 7.
The final game was at home against a touring team from Buckinghamshire, Chartridge CC were very merry by the time they reached Chester on the train but played well in the field, although they couldn't stop the Parkies hitting a good total, the dark probably had some bearing on the final result but Chartridge couldn't maintain there bright start and fell short by 19 runs.
Park 131 for 7, Chartridge CC 112 for 7.
Park have merged with fellow pitch users Chester Asians and will be looking to recruit for the new year, we will be competing in the Cheshire Alliance league and need players for a second team who can commit to Saturdays and occasional Sundays for the Knockout cup. We are also looking for players for the T20 league and friendlies. All abilities welcome.
2013 will also be the start of our junior section, we have 2 fully qualified ECB UK2 level coaches and crb checked volunteers who will form an under11 group, working with the local schools. Our intention is to add age groups as we gain experience and the kids grow.
Ladies are also welcome to join, there are a few women playing in the Cheshire Alliance and there are also plenty of women's teams in the area, so if we have enough demand then there is the option to form our own.
Nets sessions start in January.
For more information, visit our webpage at westminsterpark.play-cricket.com.