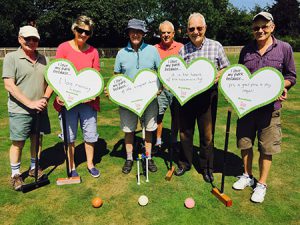 Despite rather mixed weather, Westminster Park has been a hive of activity during the summer months. Local residents and visitors have been making good use of the wide range of sporting and recreation facilities. Clubs and sports groups that meet in the park have all had full programmes of games, league matches, training and coaching, and the children's play area and BMX track have been busy throughout the holiday period. Even on grey, damp days, there are always hardy dog walkers and exercise enthusiasts to be seen. And everyone has welcomed the improved range of food and beverages at the café.
In July there was a national Love Parks Week to celebrate public open spaces and recreation areas. As its contribution to the event, the Council sent out members of its Green Space team to local parks with special heart-shaped notice boards for park users to write their own personal message "I love my park because … " The team happened to visit Westminster Park when a weekly croquet session was in full swing. Mustering all their literary skills, the players gladly obliged and were duly photographed displaying their completed heart-shaped notice boards.
Following unauthorised incursions by travellers last year and again earlier this year, a height barrier and other preventative measures are being considered by the Council and we are waiting to hear the outcome. The Council has also initiated a project to renovate the changing room area in the central café block but as yet there is no information as to when completion is expected and how it will operate.
In response to incidents of vandalism and anti-social behaviour, park users will have noticed increased patrols by our local police, PCSO and community safety wardens.
Looking ahead, the main challenge is how the attractiveness and standards of the park can be maintained in a context of ever tightening constraints on Council spending. There has been an increasing number of comments and complaints about falling standards of upkeep: grassed areas being cut less frequently, nettles and other weeds spreading across paths, the children's play area and the BMX track, and maintenance and repairs taking a long time or not being done. Greater community involvement by volunteers may be a way forward but volunteers will undoubtedly want a say in how the park is managed.
David Guyton
Friends of Westminster Park