Prepared by Niall Macfadyen and Mary Pole                                 
Approved by:
Steve Telford (Chair, Friends of Westminster Park),
Sue Britton (Secretary, Friends of Westminster Park)
Andy James, Cheshire West and Chester Greenspace Ranger
 Introduction
The plan covers the next twelve months of planting and maintenance.   Maintenance activities can be carried out throughout the year, but there are preferred times for planting, pruning, weeding etc.
It is planned to plant additional flowering shrubs and herbaceous perennials in the "formal borders" area outside the café, marked A on the map in fig 1.  This work should be carried out in November and December 2020.  In order to do this a number of unwanted self seeded, dead and dying plants need to be removed.  Others can be rescued by suitable pruning.
It is planned to plant wildflower bulbs in the woodland area, marked B on fig 1.  Two areas will be planted up during November and December.  There will be maintenance work on the woodland throughout the winter, involving coppicing suitable trees (e.g. Hazel) and thinning out trees that are now reaching maturity, so that trees chosen to remain have room to grow.
There is general maintenance (pruning, removing ivy) of existing shrubs in areas C , D and E on Fig 1.   Some Lleylandii plants are also required in areas C and D to replace burned out plants.
It is planned to purchase wildflower seeds to grow on and plant out in the spring/summer of 2021.  These plants will initially be planted out on the grassy mounds in area F of  Fig 1.
In order to minimise future maintenance, the budget includes purchase of weed suppressing membrane and bark chippings, which both suppress weeds and look nice.
Budget summary
| | |
| --- | --- |
| bark 2 cubic metres | 200 |
| membrane 50m x 2m | 50 |
| plants | 250 |
| seeds | 50 |
| bulbs | 525 |
| Lleylandii | 40 |
| total | 1115 |
We are assuming we will be able to get some discounts on these costs.  Our budget is assumed to be £1000.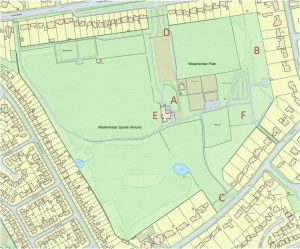 Area A – Formal Beds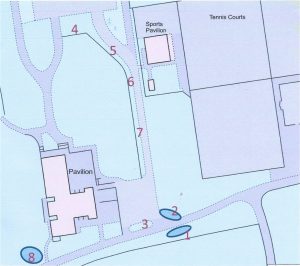 Generally there are numerous  flowering shrubs, but with limited flowering periods.  The proposed additional plants have a focus on winter flowering species and are suitable for the varying  aspects of the beds from full sun to almost full shade.
Areas B and F – Wildflower Area and Woodland Area
There is a current council proposal for encouraging grasslands and wildflower meadows, so our proposal only includes a "demonstrator/trial area".  Similarly, final decisions on the eventual plants list for these areas are dependent on the outcome of the proposals before the council.
Wildflower seeds will be planted and grow on in the spring, hopefully in collaboration with local primary schools and gardening clubs.  These will be planted out on the grassy mounds at F in the early summer.
Native woodland plant bulbs have been planted out in two separate areas of the woodland during the late autumn/winter.  These will flower in spring, before the leaf canopy develops.